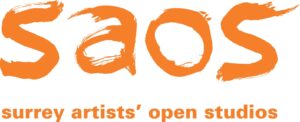 Surrey Artist Open Studios (SAOS) offers a number of year round activities and events for artists.
Our Xmas Open Studio event is on 3rd November where visitors will be able to buy direct from artists ready in time for Christmas.
Surrey Artists Open Studios take place each Summer and Christmas as an opportunity for the public to visit studios, meet artists and makers, view demonstrations, buy artwork, view taster exhibitions and take part in creative workshops. Studio locations are throughout Surrey and around its borders.
Join us at the New House Arts Space for our launch party and an opportunity to network with participating artists. https://surreyopenstudios.org.uk/