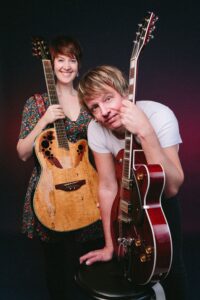 Saturday 14th May 2022 @ 7.30pm
At: Grayshott Village Hall, Headley Road, Grayshott,
Nr. HINDHEAD, Surrey GU26 6TZ
Grayshott Folk Club introduces:
HONEY & THE BEAR + Friends
British folk and roots duo, Honey & the Bear, combine delicately interweaving vocal harmonies with emotive and evocative song writing. With a diverse range of sounds, textures and rhythms that flow from the fast and furious to gentle ballads, their live performances are spirited and dynamic.
Conjuring stories in song, they tell tales of Suffolk folklore, courage, passion and heartbreak. The multi-instrumentalist pair, comprised of songwriters Jon Hart (Guitar, Bass, Bouzouki) and Lucy Hart (Guitar, Ukulele, Bass, Banjo, Mandolin & Percussion), have been writing and performing together since 2014, having met at a song writing event two years previously.
Since then, they have played at many revered venues and festivals across the UK as well as travelling across the channel for their first European tour. 2019 saw the release of their first full studio album 'Made In The Aker', with which they toured the UK in October 2019. They supported Sam Kelly and the Lost Boys on two UK tours and opened for The Shires at world-renowned Snape Malting's Concert Hall.
2020 was shaping up to be their big breakthrough year but everything stopped in its tracks, when the pandemic prevented live music events from March 2020. Undeterred, Honey & The Bear set about entertaining their fans online and their following increased significantly, while live music events were put on hold. Their music prevailed in the form of Sunday night Facebook live streams. They performed thirty-two throughout 2020. Honey & The Bear were originally booked to play for Grayshott in November 2020 but were thwarted by a lockdown.
After challenging themselves to write a new song for the first 12 weeks of the live stream, they successfully managed to produce a second album in the Autumn. 'Journey Through the Roke' was released on 23rd April 2021 and as you will read, the Music press loved it.
You can hear and watch Lucy and John play songs from this album on a superb live recording made at Snape Maltings in Suffolk, using the link below:

What's more, when they come to play for us at Grayshott, John and Lucy will be joined by two of the other musicians taking part in that recorded gig, namely; Toby Shaer (whistles, harmonium, flute, fiddle, bass) and Evan Carson (drums, bodhran, percussion).
We are delighted to have these four really talented young musicians playing together for us and their stars are definitely in the ascendant.
"Lucy and Jon's vocals are gentle, rich and mellifluous throughout... This is an accomplished album from a masterly duo"
Nygel Packett, Folk London Magazine
"Dexterously played with beautifully crafted arrangements around a perfect pairing of voices delivering personal fine songs; this is a stunning album."
Marc Higgins – FATEA
"This album is one of the clearest recordings I've heard in a decade, holding its head above the roke and into the sunlight on every track"
Sean Laffey, Irish Music Magazine
"Lucy's vocals are as beautiful as ever....and she is now one of this country's best folk singers"
Stephen Foster, Radio Caroline & EADT
"Dexterously played with beautifully crafted arrangements around a perfect pairing of voices delivering personal, fine songs. This is a stunning album."
Fatea
"You may not have encountered them before, but to paraphrase a quote from another bear and honey partnership, any day spent with them could be your favourite day."
Bright Young Folk
"Accomplished, easy-on-the-ear acoustic folk-pop for grown-ups"
fRoots Magazine
Tickets £15
Available from Grayshott Post Office, through Ents24
or direct from Des O'Byrne on 01428 607096