This comedy sees Charles a novelist invite a medium to his house to hold a séance as research for a book. It all goes wrong when he is haunted by the ghost of his first wife, Elvira after the séance. Elvira, tries to disrupt Charles's second marriage to Ruth who cannot see her. Elvira unintentionally kills Ruth who comes back for revenge on her, chaos ensues! Will the medium be able to exorcise the ghosts of both wives? Will Charles be left in peace? What vital part does the maid play?
Blue Fire Theatre Co at the Nomad Theatre present Kemp's Jig. In 1599 Will Kemp, superstar of the European stage and chief clown of the Lord Chamberlain's Men fell out with the playwright and fellow company shareholder William Shakespeare, resigned his shares and as any high-profile personality might do, staged an event. He soon found he did not need a theatre to house his antics. A road would serve his needs. He danced from London to Norwich and wrote about his journey in his book The Nine Daies Wonder. Fast Forward 400 years or so to Chris Harris; actor, clown, and mime who became intrigued by Kemp, did a vast amount of research and wrote the play we see today – Kemp's Jig. Chris toured the play globally and it has also played at the Royal Shakespeare Company and was made into a radio drama for the BBC. The radio programme was heard by Sam Wanamaker who subsequently asked Chris to tour the USA as Kemp with his play The Wooden O, to raise funds to build the Globe, Bankside.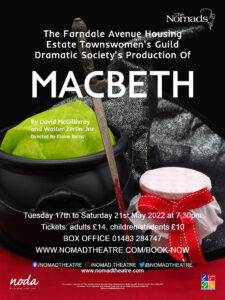 If you like "The Play That Goes Wrong" you will love this. Six ladies of the Guild attempt to put on Macbeth (for a drama competition), playing all the best parts! They are closely observed by the drama adjudicator, but will they reach the competition finals? There is something wrong with the set, something wrong with Banquo, the poor stage manager is forced to play Lady Macbeth and just what has happened to the third witch. This has all the fun and tricks you expect from a Farndale production.
Please visit the website to book your ticket https://www.nomadtheatre.com/book-now/ or call the Box Office on 01483 284747.
We are a community, not-for-profit theatre group, occupying a professionally designed theatre space. We produce a variety of shows, year-round, as well as showcasing affiliate groups on our stage. We have a thriving group for youngsters (Nomes Youth Theatre), a regular community lunch & speaker event (Prompt Corner – get involved by emailing), the amazing annual event Play In A Week and plenty of opportunities to socialise at a Club Night, social event.