Blue Fire Theatre Co at the Nomad Theatre present Kemp's Jig. In 1599 Will Kemp, superstar of the European stage and chief clown of the Lord Chamberlain's Men fell out with the playwright and fellow company shareholder William Shakespeare, resigned his shares and as any high-profile personality might do, staged an event. He soon found he did not need a theatre to house his antics. A road would serve his needs. He danced from London to Norwich and wrote about his journey in his book The Nine Daies Wonder. Fast Forward 400 years or so to Chris Harris; actor, clown, and mime who became intrigued by Kemp, did a vast amount of research and wrote the play we see today – Kemp's Jig. Chris toured the play globally and it has also played at the Royal Shakespeare Company and was made into a radio drama for the BBC. The radio programme was heard by Sam Wanamaker who subsequently asked Chris to tour the USA as Kemp with his play The Wooden O, to raise funds to build the Globe, Bankside.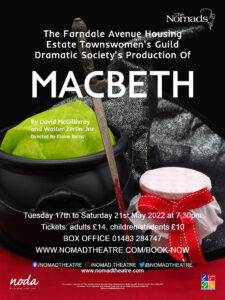 If you like "The Play That Goes Wrong" you will love this. Six ladies of the Guild attempt to put on Macbeth (for a drama competition), playing all the best parts! They are closely observed by the drama adjudicator, but will they reach the competition finals? There is something wrong with the set, something wrong with Banquo, the poor stage manager is forced to play Lady Macbeth and just what has happened to the third witch. This has all the fun and tricks you expect from a Farndale production.
Please visit the website to book your ticket https://www.nomadtheatre.com/book-now/ or call the Box Office on 01483 284747.
This wonderful musical is the story of Bill Snibson, a cockney who finds himself heir to the Earldom of Hareford, much to the consternation of the noble family who are his new relatives. They are determined to educate him to their ways and that means leaving his girlfriend Sally, firmly behind in Lambeth. Set between the wars in the glorious setting of Hareford Hall in Hampshire and featuring well-loved songs such as "The sun has got his hat on" and the "Lambeth Walk". This fabulous show will have you tapping your toes, humming along and laughing out loud. Phone the box office to book tickets 01483 284747 or book online via www.nomadtheatre.com/book-now
An evening with Joyce Grenfell's songs and humour at the Nomad Theatre from 11th to 12th March at 7.30.
A Double Bill: Tuesday 22nd to Saturday 26th February at 7.30pm
Tickets: Adults £14, children/students £10
The Real Inspector Hound by Tom Stoppard Directed by Paul Asher
"Tom Stoppard meets Agatha Christie and Hamlet!" The plot follows two theatre critics named
Moon and Birdboot who are watching a ludicrous set up of a country house murder in the style
of a whodunit. By chance, they become involved in the action causing a series of events that
parallel the play they are watching.
This amateur production of "The Real Inspector Hound" is presented by arrangement with
Concord Theatricals Ltd on behalf of Samuel French Ltd. www.concordtheatricals.co.uk
My Second Best Bed by Barry Syder Directed by Moyra Brookes
Why did Shakespeare bequeath his second best bed to his wife? Did he not care for her? The
answer is surprising.
An amateur production by arrangement with Stagescripts Ltd
Join us for our family-friendly adaptation of the classic story of a little girl who falls down a rabbit hole one afternoon. We are following covid procedures at the theatre with enhanced cleaning and contactless payments.
Book online with www.nomadtheatre.com/book-now or phone box office 01483 284747
For more information go to our website www.nomadtheatre.com
We are a community, not-for-profit theatre group, occupying a professionally designed theatre space. We produce a variety of shows, year-round, as well as showcasing affiliate groups on our stage. We have a thriving group for youngsters (Nomes Youth Theatre), a regular community lunch & speaker event (Prompt Corner – get involved by emailing), the amazing annual event Play In A Week and plenty of opportunities to socialise at a Club Night, social event.