ALISON HUNT
Alison's paintings are a response to the natural landscape. When planning a new painting, the elements she takes for her inspiration are shape, form and colour. She record the landscape on her daily walks and journeys and use photographs and sketches to piece together a new idea. Her paintings are not necessarily of a particular location but relate to multiple images and feelings she gains when immersed in the landscape.
Colours and how they contrast and compete with each other play great importance in her work - using tones that are not of the landscape brings a different perspective to her work, the final result taking on a more abstract quality.
She is a self-taught artist working in acrylic and mixed media – she loves the flexibility that this gives her and enjoys trying new techniques to bring a different dimension to her work. Her best results sometimes come from accidents with the paint.
From an early age, she has always created and her previous job in the fashion industry has given her a love of colour, texture and form. She is fortunate to work from her garden studio on the Surrey/Hampshire border.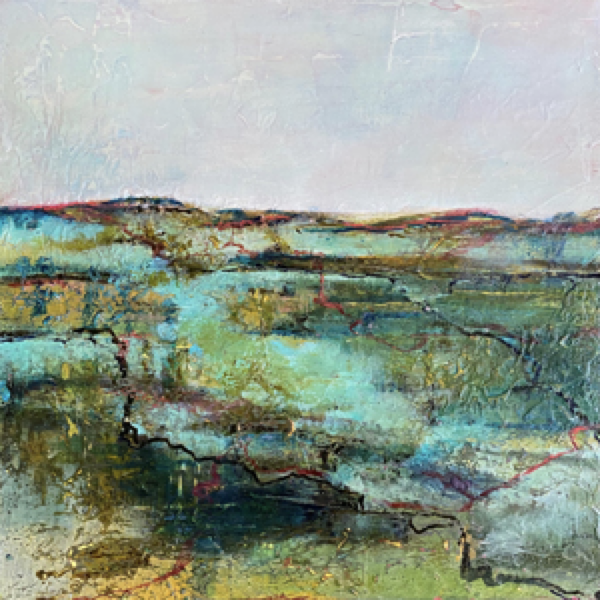 From the Dunes
RUTH BARRETT-DANES
Ruth is both a ceramist and printmaker and her prints reflect the development of a visual language that has been synthesised from her past ceramic work. Her early years spent in Devon exploring the sinister and brooding Dartmoor and later the Welsh landscape around the Black Mountains encouraged a love of nature and observation of all things wild and strange. Now living in Hampshire, the landscape is providing new challenges and responses. The prints are an atmospheric response to daily walks through the landscape and lay down a catalyst for the next series of works.
She uses a variety of materials and processes in each project, the subject matter determining the specific selection, whether it is Collagraph, Drypoint or Screen Printing and Lino Cuts. Her editions are small and variable due to the process which means each print is unique.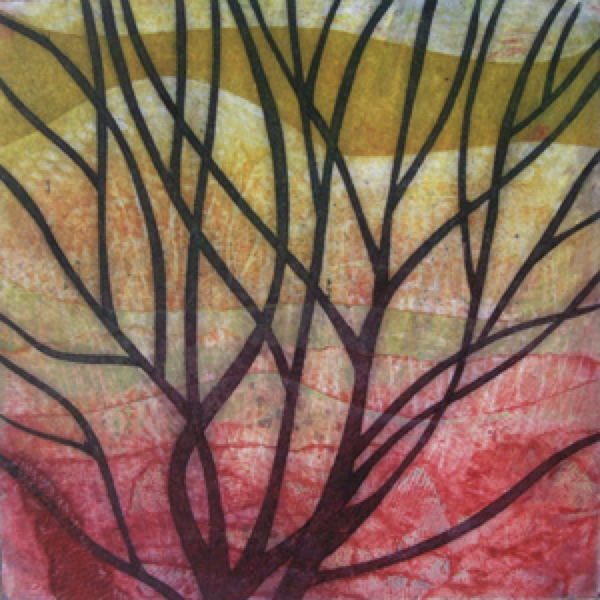 GACHOU PLETTS PHOTOGRAPHER
Gachou enjoys discovering the unpredictable in nature and
urban environment. The images she is presenting today is
illustrating her wide genre. Her photography has a creative approach.

ELAINE COLES DIGITAL ARTIST
For many years Elaine had been a ceramic artist, these pots were highly colourful one off designs. She began by photographing them and downloading the images into Photoshop and creating prints from these. but more recently she has been experimenting with digital images and working with Photoshop to see how she could develop and create her 'digital art'.
Exhibition of Art featuring the work of two artists:
CANDIDA WOOLLEY
Candida trained and practiced as an architect having drawn and painted from early childhood. She enjoyed the real challenges and practical problems involved in designing buildings. She has been painting landscapes, both realistic and abstract, for many years, focusing on skies and open countryside in Suffolk and Surrey. Painting is satisfying but also challenging, as she is always experimenting with the landscape. Her knowledge of painting techniques is learnt from her design course at Wimbledon School of Art, and studying the work of great masters, such as Constable and Turner, whose techniques she applies to her own ideas.   She has exhibited her work over fifteen years in London and Suffolk; her paintings hang in many private collections.
DOMINIQUE GOODWIN
Dominique is a graduate of the University for the Creative Arts.
Her latest practice is a series of collages started during lockdown. These pieces are made out of components recycled from obsolete or discarded electronics.
They might make you reflect on consumerism and waste.
Guildford Arts is a charity dedicated to the promotion of the Arts in Guildford and the surrounding area.
To support our efforts by becoming a member, please visit www.guildfordarts.com
Membership costs from a little as £10 per annum.
www.guildfordarts.com