PENNY BAKER REMNENT
Having worked in Fashion Design many years ago, Penny went on to teach and raise a family. Many years later she attended UCA and graduated with a degree in Fine Art. Textiles will always be important making textile and mixed media hangings.
However, her interest in photography allows her to combine her expertise, using conventional media with digital imaging to produce fine art prints. All her images are produced from her own original photographs.
Penny's website is under reconstruction but you can contact her at penny@penart.biz
SUSIE LIDSTONE
Susie has been painting seriously for over 30 years and has always wanted to create. Seeing the beauty that surrounds us, no matter how small-scale, opens your eyes to a new world of taking the time to notice every little thing within buildings, flowers and life in general. Susie's paintings are very detailed and full of colour – part of how she sees the world. Flowers and buildings are her key areas of interests. It is a way of enjoying a walk in the countryside because you can see beauty in so many things. The vibrant colours of flowers have always fascinated her and watercolour is the perfect medium for her to capture both the calm and vitality.
Buildings, especially historic ones, in and around Farnham continue to be popular subjects for many of her commissions. A walk in the town just looking at buildings keeps her mind and imagination fresh and in the past she has worked on a series focusing on buildings designed by the architect Edwin Lutyens. Susie admires the work of Charles Rennie Mackintosh, Paul Hogarth and Graham Clarke for their quirky take on architecture and buildings and finally one of her best moments was to have a painting exhibited alongside Dame Elizabeth Blackadder in a London exhibition, whose paintings had filled her with delight as a child
Her designs have been used in art projects for Crafts 4 Kids, an online children's store that led to further artwork for Great Ormond Street hospital and Sir Magdi Yacoub's Chain of Hope to raise money for life saving heart surgery. She is also collaborating on an ongoing basis with Niklas Von Mehren, the Savile Row Tailor.
HELEN LOCKE MIXED MEDIA
Helen Locke is and Illustrator, Teacher and Printmaker who was Artist in Residence at Ochre Print Studio in 2018. Her current work responds to our Surrey Hills Vineyards, informed by drawings made at Greyfriars (Autumn Harvest screen print edition) and Albury Vineyards (Acrylic Still Life) near Guildford. Helen runs a term time art class at St Marks Church in Old Woking where you can learn to draw and paint, and a free monthly drawing group @drawfarnham via Instagram. You can follow her @helenlockeprint for details of upcoming workshops and exhibitions.
MARILYN CUDMORE MIXED MEDIA
Marilyn is an artist living and working in Surrey, and in addition to her BA(Hons) in Fine Art she holds a Post-Graduate Degree in teaching. She exhibits with group shows locally and has also shown her work in a solo capacity.
As this is such a beautiful area to live in, it inspires the main focus for Marilyn's work that is Landscape and, a little further afield, Seascape. She loves the textures, colours and negative shapes that nature displays and she uses a variety of mixed media such as acrylic paint, watercolours, pencils and pastels, alongside mark-making to create her impressions.
ALISON HUNT
Alison's paintings are a response to the natural landscape. When planning a new painting, the elements she takes for her inspiration are shape, form and colour. She record the landscape on her daily walks and journeys and use photographs and sketches to piece together a new idea. Her paintings are not necessarily of a particular location but relate to multiple images and feelings she gains when immersed in the landscape.
Colours and how they contrast and compete with each other play great importance in her work - using tones that are not of the landscape brings a different perspective to her work, the final result taking on a more abstract quality.
She is a self-taught artist working in acrylic and mixed media – she loves the flexibility that this gives her and enjoys trying new techniques to bring a different dimension to her work. Her best results sometimes come from accidents with the paint.
From an early age, she has always created and her previous job in the fashion industry has given her a love of colour, texture and form. She is fortunate to work from her garden studio on the Surrey/Hampshire border.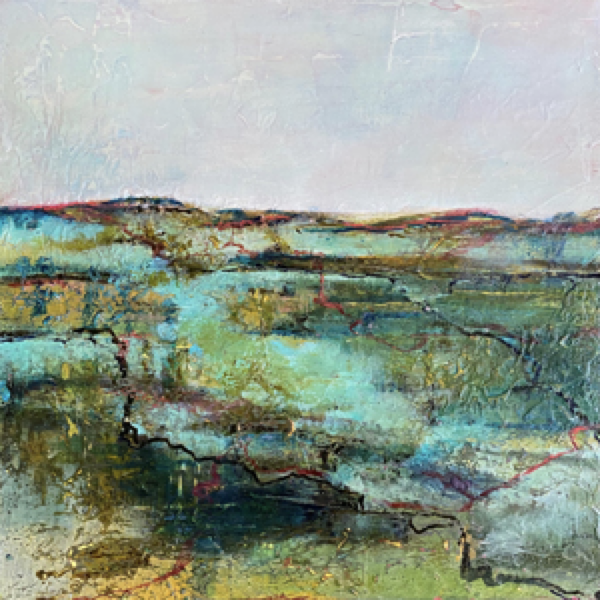 From the Dunes
RUTH BARRETT-DANES
Ruth is both a ceramist and printmaker and her prints reflect the development of a visual language that has been synthesised from her past ceramic work. Her early years spent in Devon exploring the sinister and brooding Dartmoor and later the Welsh landscape around the Black Mountains encouraged a love of nature and observation of all things wild and strange. Now living in Hampshire, the landscape is providing new challenges and responses. The prints are an atmospheric response to daily walks through the landscape and lay down a catalyst for the next series of works.
She uses a variety of materials and processes in each project, the subject matter determining the specific selection, whether it is Collagraph, Drypoint or Screen Printing and Lino Cuts. Her editions are small and variable due to the process which means each print is unique.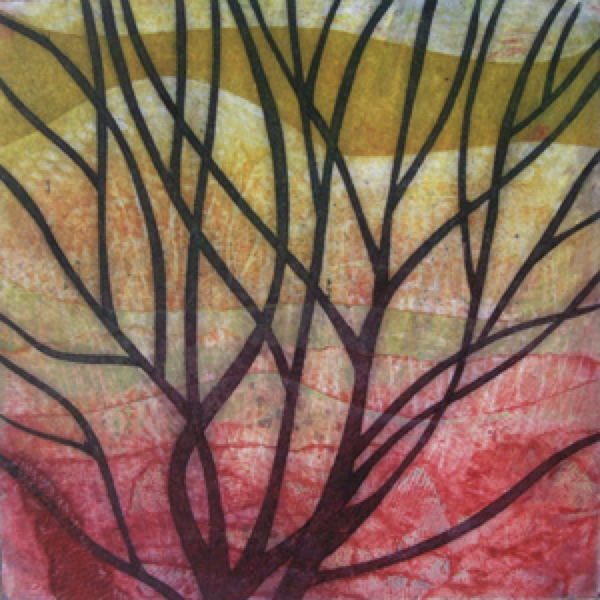 Guildford Arts is a charity dedicated to the promotion of the Arts in Guildford and the surrounding area.
To support our efforts by becoming a member, please visit www.guildfordarts.com
Membership costs from a little as £10 per annum.
www.guildfordarts.com