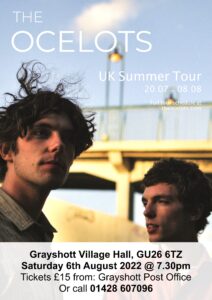 Saturday August 6th 2022 @ 7.30pm
THE OCELOTS
The Ocelots are 24 year-old twins Brandon and Ashley Watson. Born and raised in Ireland, now they live in Leipzig, Germany. The twins have crafted their song writing and musical experience together to produce a forceful blend of rich, sibling harmonies and bare, raw acoustic folk. Their music perfectly embodies the breezy effortlessness of early Bob Dylan and Simon & Garfunkel and has earned them over 1.6 Million listens on Spotify.
The word is getting out and in May 2022, they were invited to virtually attend the Folk International Alliance showcase event in Kansas City, USA. This won't be the last time you hear about The Ocelots........ They are on the way up, for sure.
The Ocelots' live set combines all that is great about Folk music, so come and be charmed by this charismatic duo.
Listen to a live rendition of "The Switch" right here:

At:
Grayshott Village Hall, Headley Road, Grayshott,
Nr. HINDHEAD, Surrey GU26 6TZ
Tickets £15
Available from: Grayshott Post Office or Des O'Byrne on 01428 607096
Grayshott Folk Club http://www.grayshottfolkclub.co.uk
Friday July 15th 2022 @ 7:30pm
Bob Fox
Bob Fox is an engaging, endearing and enduring entertainer. He is one of the true greats of the Folk World. Bob hails from the North-East and has done the Folk club rounds for many, many years. It seemed only right and proper then, that he should be cast as "The Songman" in the original 2007 National Theatre production of "War Horse".
He played that part for a whole two years and was lavished with praise for his outstanding performances. It transformed his life and he was then delighted to be invited back, to reprise his part in the show's 10th Anniversary Tour.
Now he is back to performing as plain, ordinary Bob Fox but as you'll discover; there's nothing plain or ordinary about our Bob...
Here's Bob singing "Shoals of Herring":
https://www.youtube.com/results?search_query=bob+fox+shoals+of+herring
At:
Grayshott Village Hall,
Headley Road, Grayshott,
Nr. HINDHEAD, Surrey GU26 6TZ
Tickets £15
Available from: Grayshott Post Office
or Des O'Byrne on 01428 607096
or Ents 24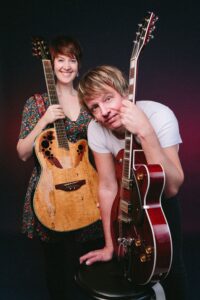 Saturday 14th May 2022 @ 7.30pm
At: Grayshott Village Hall, Headley Road, Grayshott,
Nr. HINDHEAD, Surrey GU26 6TZ
Grayshott Folk Club introduces:
HONEY & THE BEAR + Friends
British folk and roots duo, Honey & the Bear, combine delicately interweaving vocal harmonies with emotive and evocative song writing. With a diverse range of sounds, textures and rhythms that flow from the fast and furious to gentle ballads, their live performances are spirited and dynamic.
Conjuring stories in song, they tell tales of Suffolk folklore, courage, passion and heartbreak. The multi-instrumentalist pair, comprised of songwriters Jon Hart (Guitar, Bass, Bouzouki) and Lucy Hart (Guitar, Ukulele, Bass, Banjo, Mandolin & Percussion), have been writing and performing together since 2014, having met at a song writing event two years previously.
Since then, they have played at many revered venues and festivals across the UK as well as travelling across the channel for their first European tour. 2019 saw the release of their first full studio album 'Made In The Aker', with which they toured the UK in October 2019. They supported Sam Kelly and the Lost Boys on two UK tours and opened for The Shires at world-renowned Snape Malting's Concert Hall.
2020 was shaping up to be their big breakthrough year but everything stopped in its tracks, when the pandemic prevented live music events from March 2020. Undeterred, Honey & The Bear set about entertaining their fans online and their following increased significantly, while live music events were put on hold. Their music prevailed in the form of Sunday night Facebook live streams. They performed thirty-two throughout 2020. Honey & The Bear were originally booked to play for Grayshott in November 2020 but were thwarted by a lockdown.
After challenging themselves to write a new song for the first 12 weeks of the live stream, they successfully managed to produce a second album in the Autumn. 'Journey Through the Roke' was released on 23rd April 2021 and as you will read, the Music press loved it.
You can hear and watch Lucy and John play songs from this album on a superb live recording made at Snape Maltings in Suffolk, using the link below:

What's more, when they come to play for us at Grayshott, John and Lucy will be joined by two of the other musicians taking part in that recorded gig, namely; Toby Shaer (whistles, harmonium, flute, fiddle, bass) and Evan Carson (drums, bodhran, percussion).
We are delighted to have these four really talented young musicians playing together for us and their stars are definitely in the ascendant.
"Lucy and Jon's vocals are gentle, rich and mellifluous throughout... This is an accomplished album from a masterly duo"
Nygel Packett, Folk London Magazine
"Dexterously played with beautifully crafted arrangements around a perfect pairing of voices delivering personal fine songs; this is a stunning album."
Marc Higgins – FATEA
"This album is one of the clearest recordings I've heard in a decade, holding its head above the roke and into the sunlight on every track"
Sean Laffey, Irish Music Magazine
"Lucy's vocals are as beautiful as ever....and she is now one of this country's best folk singers"
Stephen Foster, Radio Caroline & EADT
"Dexterously played with beautifully crafted arrangements around a perfect pairing of voices delivering personal, fine songs. This is a stunning album."
Fatea
"You may not have encountered them before, but to paraphrase a quote from another bear and honey partnership, any day spent with them could be your favourite day."
Bright Young Folk
"Accomplished, easy-on-the-ear acoustic folk-pop for grown-ups"
fRoots Magazine
Tickets £15
Available from Grayshott Post Office, through Ents24
or direct from Des O'Byrne on 01428 607096
Saturday 19th March 2022 @ 7.30pm THE TRIALS OF CATO https://www.thetrialsofcato.com/ The Trials of Cato won the BBC Radio 2 Folk Album of The Year Award in 2019 for their debut album, "Hide & Hair". The trio's remarkable rise on the UK folk-scene has been the subject of massive critical attention. Dubbed "The Sex Pistols of Folk," (J. Davis), they pay respectful homage to the tradition, whilst twisting old bones into something febrile and modern, with stomping tunes and captivating stories. Their live performances are legendary....exciting and uplifting in equal measure.
The Trials of Cato were formed in Beirut by three young musicians who were teaching English there. The original band comprised of Will Addison (Irish bouzouki), Robin Jones (mandolin) and Tomos Williams (guitar). They returned to the UK in 2016 and performed tirelessly up and down the country, honing their musical skills and developing their live act. Following a year of wall-to-wall touring across the UK, Europe, and North America in 2019, the band's march was halted by the unnerving silence of the global pandemic.................
Now, they have emerged from their chrysalis transformed. As ever, "The Trials" continue but Will Addison has left the band and been replaced by the hugely talented multi-instrumentalist and singer Polly Bolton. Polly is a former member of The Magpies. Her nimble fingers (which master the fret board of the mandolin, banjo and Irish bouzouki), have added a new and exciting dynamic to the trio…...as have her fantastic vocals. The Trials of Cato's hotly-anticipated second album is scheduled for release later this year.
Entitled "Gog Magog", the album is named both after the mythical giant of Arthurian legend and the Cambridgeshire hilltop, where the new album was conceived over lockdown. They'll be coming to us hot on the heels of their sold out appearance at the Celtic Connections Festival in Glasgow in January and a mini-tour of Wales. They have only just returned from ArtFarm Recording Studios in New York, where they have been putting the finishing touches to their album, prior to its release.
Our audience at Grayshott will be among the very first to hear live performances of their new material. Don't miss 'em!
"One of the real discoveries on the folk circuit in recent times" Mark Radcliffe, BBC Radio 2 "Fascinating stuff" – Cerys Matthews, BBC 6 Music "Swaggering… glossy results" – The Guardian "A band name on everyone's lips" – fRoots
Listen to the first release, from their upcoming new album, called "The Boys of Bedlam" from the new-look Trials of Cato here; https://m.youtube.com/watch?time_continue=1&v=Z8DPGSOTGQo&feature=emb_logo
And here is "Gloria" https://drive.google.com/drive/folders/1VRup3DsMkA7fWWzPXsCQ6V1LAZvsA06W
At: Grayshott Village Hall, Headley Road, Grayshott, Nr. HINDHEAD, Surrey GU26 6TZ
Tickets: Adults £16/Under16s £8
Available from: Grayshott Post Office, Haslemere Bookshop
OR Des O'Byrne Grayshott Folk Club 01428 607096 grayshottfolkclub@btinternet.com www.grayshottfolkclub.co.uk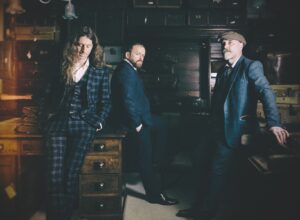 Grayshott Folk Club
www.grayshottfolkclub.co.uk
Grayshott Village Hall, Headley Road, Grayshott,
Nr. HINDHEAD, Surrey GU26 6TZ
Friday April 22nd 2022 @ 7.30pm
Presents Traditional Irish/Celtic Folk with: cua
This trio came over from Ireland to play for us in November 2019. Their beautiful harmonies and passionate singing, made a big impact on our audience so we are delighted to welcome them back to Grayshott again.
Since issuing their superb "Songs of The Hollow" album, Irish/Celtic Folk trio cua have gone on to become a band that has gathered in more praise than most from all sections of the music media.
Awarding the album an 8/10 rating at Americana UK, Jeremy Searle said:
"This Irish trio stands right at the forefront of contemporary cutting-edge folk and even that description sells it a little short."
Issuing a similar judgement for Acoustic magazine, Julian Piper had this to say: "At its finest, music should confound and amaze, and this trio from Ireland have the ability to be one of those outfits who can pull this off."
"John Davidson, Shane Booth & Ros O'Meara bring together dynamic and contrasting instrumentation and vocal arrangements. The group have an expansive acoustic soundtrack blending guitars, fiddle, bouzouki, percussion and 3-part harmony arrangements, to create a world music folk styling that the group call Atlantean."
Although cua were a last-minute addition to Glasgow's Celtic Connections in January 2019, theirs was one of the very first sold-out events.
Listen to "The Other Man" here: https://www.youtube.com/watch?v=ZLLX2hVUeeA
+ Antoine & Owena
Tickets £15 available from: Grayshott Post Office, Haslemere Bookshop
or Des O'Byrne on 01428 607096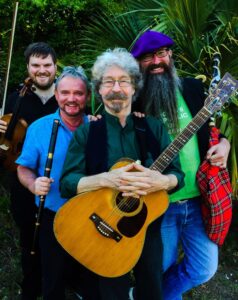 Saturday 6th November 2021 @ 7.30pm
THE TANNAHILL WEAVERS https://tannahillweavers.com/
This is another of our rescheduled gigs and we welcome more visitors from North of the border.................the one and only Tannahill Weavers! They have become something of an institution as they have been plying their trade in Folk Clubs, all over the World, for over 50 years.
There has been no let up in their energy levels and they are still playing their own interpretations of traditional Scottish Folk music to anyone who enjoys uplifting, rhythmic music like this: https://m.youtube.com/watch?v=0FANYQIFdtE
Scottish Traditional Music Hall Of Fame Inductees 2011 Citation: "They've always been an exciting live act, but over the decades, The Tannahill Weavers have acquired a degree of musical sophistication that places them among the most influential Celtic bands in history." Rob Weir- Sing Out magazine
Tickets are £15
Available from Des O'Byrne on 01428 607096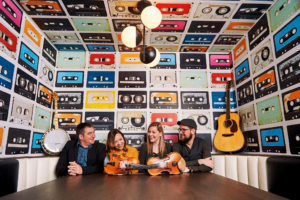 Friday 12th November 2021 @ 7.30pm
CÒIG
CÒIG return to Grayshott Folk Club as part of their 2021 UK tour. They were the last band to play at Grayshott, immediately before the first lockdown on 29th February 2020.
That night, they played to an ecstatic full house and the audience absolutely loved CÒIG's Celtic vibes.
CÒIG are a Canadian Celtic "super group" from Nova Scotia and having had several Canadian bands playing for us at Grayshott in the past, we know that Canucks never do things by halves. If you love authentic Celtic/Irish Folk music, played by outstanding musicians, you will love CÒIG. Each member of Coig is a virtuoso musician and together they make a wonderful ensemble.
They play Celtic music but "Celtic" has a loose definition across the Atlantic and although the band certainly play some traditional music with Celtic origins, they also write and borrow freely from other genres and musicians, so you'll find the likes of Kate Rusby and Gordon Lightfoot mentioned in dispatches.
The four members of CÒIG are:
Chrissy Cowley on Fiddle,
Rachel Davis on Fiddle, Viola and Vocals,
Jason Roach on Piano
Darren McMullen sings lead Vocals and plays a total of nine instruments.
The band have been nominated for, and won many awards, including most recently;
2019 Music Nova Scotia Traditional/Roots Recording of the Year-Nomination (for their latest album "Ashlar")
2018 East Coast Music Awards Roots Traditional Recording of the Year-Winner (for their last album "Rove")
2018 JUNO Awards Traditional Roots Album of the Year-Nomination ("Rove")
Their latest album is called "Ashlar" (released June 2019).
"Ashlar is an exceedingly sparkling affair packed with contrast and versatility, every item a different kind of musical experience. And yet the whole ten-track collection possesses a healthy unity of execution and a delightfully purposeful energy. Ashlar is a masonry term for "a perfect fit". Indeed, a good proportion of the tunes are composed by band members, and these dovetail brilliantly with the traditional selections."
David Kidman-Folk Radio UK
Listen to CÒIG here: https://www.youtube.com/watch?v=WyiFaTXBsPU
+ Copper Viper An Americana/Folk duo from London, who made a big impact when they played for us back in October 2019 and they are back at the earliest opportunity, by popular demand.
This will be a night of genuine quality music.
Tickets £18.
Available from Des O'Byrne on 01428 607096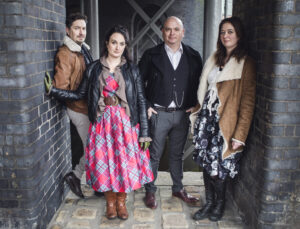 Grayshott Folk Club
www.grayshottfolkclub.co.uk
Grayshott Village Hall, Headley Road, Grayshott,
Nr. HINDHEAD, Surrey GU26 6TZ
Saturday 18th December 2021@ 7.30pm
Grayshott Folk Club's
"Christmas Special" with MELROSE QUARTET
After another year of upheaval and uncertainty, what we all need is an opportunity to sit back, relax and enjoy a proper, old-fashioned, Christmas "do". Who better to play/sing for us, than Melrose Quartet?
Top Folk musicians Nancy Kerr, James Fagan, Jess Arrowsmith and Richard Arrowsmith will royally entertain us with their very special, seasonal show, which they call "A Bright New Year" (I'll drink to that!).
The show will be based upon "The Rudolph Variations", which is their full-length album, featuring a range of joyous seasonal songs, from traditional carols to contemporary wassails.
This will be a fun evening of music & song, dressing up, games with prizes, lots of choruses to join in with, and an award............................ for the most memorable Christmas jumper.
Melrose Quartet are:
Nancy Kerr (voice, fiddle) BBC Radio 2 Folk Singer of the Year 2015 and well-loved for her appearances with The Sweet Visitor Band, Martin Simpson, The Full English, Shake the Chains and The Transports among others – and especially for her multiple award-winning duo with husband James Fagan.
James Fagan (voice, bouzouki, guitar)
Bouzouki wizard, multi-instrumentalist and singer of traditional and contemporary songs, especially from his native Australia. He has toured internationally with Nancy Kerr, Cara Dillon, Bellowhead, Glorystrokes and most recently, with his new duo The James Brothers.
Jess Arrowsmith (voice, fiddle)
Singer and fiddler Jess, performs with husband Richard as a duo, in ceilidh band Hekety, and in new transatlantic trio Arrowsmith : Robb with Ian Robb of Ottawa, having formerly sung, played and toured internationally with Crucible.
Richard Arrowsmith (voice, melodeons)
Box virtuoso and bass singer of great warmth and depth, Richard is recognised as one of the finest players of traditional dance music on the scene. Alongside his work with Jess in duo, trio and full band form (Arrowsmith : Robb, Hekety, Crucible) he is also principle musician for morris side Pecsaetan, and a founder member of metal/ceilidh band Glorystrokes.
Tickets £18.
Available from
Des O'Byrne on 01428 60709
at: grayshottfolkclub@btinternet.com
OR
Ents 24
Grayshott Folk Club puts on musical performances from top Folk musicians who come from all over the UK and abroad. We also occasionally host Pop/Rock musicians too.
01428607096