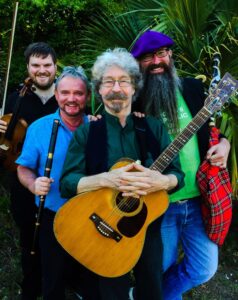 Saturday 6th November 2021 @ 7.30pm
THE TANNAHILL WEAVERS https://tannahillweavers.com/
This is another of our rescheduled gigs and we welcome more visitors from North of the border.................the one and only Tannahill Weavers! They have become something of an institution as they have been plying their trade in Folk Clubs, all over the World, for over 50 years.
There has been no let up in their energy levels and they are still playing their own interpretations of traditional Scottish Folk music to anyone who enjoys uplifting, rhythmic music like this: https://m.youtube.com/watch?v=0FANYQIFdtE
Scottish Traditional Music Hall Of Fame Inductees 2011 Citation: "They've always been an exciting live act, but over the decades, The Tannahill Weavers have acquired a degree of musical sophistication that places them among the most influential Celtic bands in history." Rob Weir- Sing Out magazine
Tickets are £15
Available from Des O'Byrne on 01428 607096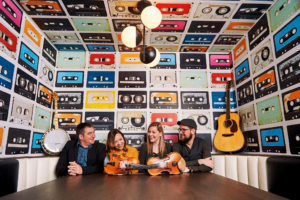 Friday 12th November 2021 @ 7.30pm
CÒIG
CÒIG return to Grayshott Folk Club as part of their 2021 UK tour. They were the last band to play at Grayshott, immediately before the first lockdown on 29th February 2020.
That night, they played to an ecstatic full house and the audience absolutely loved CÒIG's Celtic vibes.
CÒIG are a Canadian Celtic "super group" from Nova Scotia and having had several Canadian bands playing for us at Grayshott in the past, we know that Canucks never do things by halves. If you love authentic Celtic/Irish Folk music, played by outstanding musicians, you will love CÒIG. Each member of Coig is a virtuoso musician and together they make a wonderful ensemble.
They play Celtic music but "Celtic" has a loose definition across the Atlantic and although the band certainly play some traditional music with Celtic origins, they also write and borrow freely from other genres and musicians, so you'll find the likes of Kate Rusby and Gordon Lightfoot mentioned in dispatches.
The four members of CÒIG are:
Chrissy Cowley on Fiddle,
Rachel Davis on Fiddle, Viola and Vocals,
Jason Roach on Piano
Darren McMullen sings lead Vocals and plays a total of nine instruments.
The band have been nominated for, and won many awards, including most recently;
2019 Music Nova Scotia Traditional/Roots Recording of the Year-Nomination (for their latest album "Ashlar")
2018 East Coast Music Awards Roots Traditional Recording of the Year-Winner (for their last album "Rove")
2018 JUNO Awards Traditional Roots Album of the Year-Nomination ("Rove")
Their latest album is called "Ashlar" (released June 2019).
"Ashlar is an exceedingly sparkling affair packed with contrast and versatility, every item a different kind of musical experience. And yet the whole ten-track collection possesses a healthy unity of execution and a delightfully purposeful energy. Ashlar is a masonry term for "a perfect fit". Indeed, a good proportion of the tunes are composed by band members, and these dovetail brilliantly with the traditional selections."
David Kidman-Folk Radio UK
Listen to CÒIG here: https://www.youtube.com/watch?v=WyiFaTXBsPU
+ Copper Viper An Americana/Folk duo from London, who made a big impact when they played for us back in October 2019 and they are back at the earliest opportunity, by popular demand.
This will be a night of genuine quality music.
Tickets £18.
Available from Des O'Byrne on 01428 607096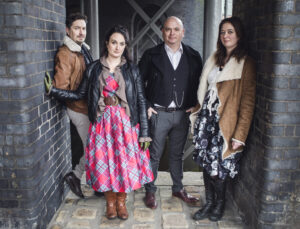 Grayshott Folk Club
www.grayshottfolkclub.co.uk
Grayshott Village Hall, Headley Road, Grayshott,
Nr. HINDHEAD, Surrey GU26 6TZ
Saturday 18th December 2021@ 7.30pm
Grayshott Folk Club's
"Christmas Special" with MELROSE QUARTET
After another year of upheaval and uncertainty, what we all need is an opportunity to sit back, relax and enjoy a proper, old-fashioned, Christmas "do". Who better to play/sing for us, than Melrose Quartet?
Top Folk musicians Nancy Kerr, James Fagan, Jess Arrowsmith and Richard Arrowsmith will royally entertain us with their very special, seasonal show, which they call "A Bright New Year" (I'll drink to that!).
The show will be based upon "The Rudolph Variations", which is their full-length album, featuring a range of joyous seasonal songs, from traditional carols to contemporary wassails.
This will be a fun evening of music & song, dressing up, games with prizes, lots of choruses to join in with, and an award............................ for the most memorable Christmas jumper.
Melrose Quartet are:
Nancy Kerr (voice, fiddle) BBC Radio 2 Folk Singer of the Year 2015 and well-loved for her appearances with The Sweet Visitor Band, Martin Simpson, The Full English, Shake the Chains and The Transports among others – and especially for her multiple award-winning duo with husband James Fagan.
James Fagan (voice, bouzouki, guitar)
Bouzouki wizard, multi-instrumentalist and singer of traditional and contemporary songs, especially from his native Australia. He has toured internationally with Nancy Kerr, Cara Dillon, Bellowhead, Glorystrokes and most recently, with his new duo The James Brothers.
Jess Arrowsmith (voice, fiddle)
Singer and fiddler Jess, performs with husband Richard as a duo, in ceilidh band Hekety, and in new transatlantic trio Arrowsmith : Robb with Ian Robb of Ottawa, having formerly sung, played and toured internationally with Crucible.
Richard Arrowsmith (voice, melodeons)
Box virtuoso and bass singer of great warmth and depth, Richard is recognised as one of the finest players of traditional dance music on the scene. Alongside his work with Jess in duo, trio and full band form (Arrowsmith : Robb, Hekety, Crucible) he is also principle musician for morris side Pecsaetan, and a founder member of metal/ceilidh band Glorystrokes.
Tickets £18.
Available from
Des O'Byrne on 01428 60709
at: grayshottfolkclub@btinternet.com
OR
Ents 24
Grayshott Folk Club puts on musical performances from top Folk musicians who come from all over the UK and abroad. We also occasionally host Pop/Rock musicians too.
01428607096