John Blek is a gentle giant from Cork, Ireland. He plays guitar skilfully and sings beautifully (he has a voice similar to that of Roy Orbison). John visited us back in the pre-Covid days of April 2019 and went down so well with our audience that we've been trying to book him again ever since. Covid and tour schedules conspired to delay his return but on Friday 26th May 2023 @ 7.30pm, John will be playing/singing for us again but this time in the beautiful setting of St. Alban's Church in Hindhead, Surrey GU26 6RB.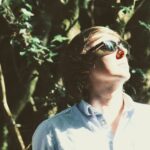 You can listen to John's latest single, "Lyric and Air" here:
https://www.youtube.com/watch?v=iWCPHYoGps0
and "Lace" here:
Available in person from Grayshott Post Office
or call Des O'Byrne on 01428 607096
e-mail: grayshottfolkclub@btinternet.com
or online through ENTS 24: https://www.ents24.com/hindhead-events/st-albans-church/john-blek/6691052
Grayshott Folk Club puts on musical performances from top Folk musicians who come from all over the UK and abroad. We also occasionally host Pop/Rock musicians too.
01428607096