Heads South plays superb Latin Jazz combining Cuban and other Latin rhythms with distinctive melodies in an exhilarating repertoire of original and classic tunes. The Band is led by John Harriman on piano/organ and features top UK trumpeter Steve Waterman, Venezuelan bassist Adolfredo Pulido, Cuban percussionist Chino Martell Morgan on congas, bongos, cajon, guiro and Buster Birch on drums, timbale, castanets, frame drum.
Heads South has released two albums to critical acclaim, and was winner from more than 75 bands nationwide of the UK Jazz Services National Touring Forum award.
Think Buena Vista Social Club in a smaller package, add the excitement of Jazz, tuneful melody, and imbibe the warmth of a Latin evening, grooving into the night…
"A refreshing cultural mix of players with outstanding jazz credentials.. Cuban rhythms dominate, rocking syncopated percussion…well worth seeing" The Gig Guide
"Spare, crisp, invigorating Latin jazz…Waterman's mastery of this idiom suits Harriman's deceptively simple compositions to perfection' The Observer
"Impeccable musicianship" The Times
8PM at St John's Church, St. John's Street, Farncombe, Godalming, Surrey GU7 3EJ
Polly Gibbons is a growing presence in the UK Jazz scene. She has already been nominated twice as "Best Jazz Vocalist" by JAZZ FM and the BBC. Fully embracing the inspiring expansiveness of American Jazz, Blues, Soul and R&B, her career as a vocalist, composer and live performer is influenced by these genres.
But Polly is hesitant to define her music as strictly Jazz; her eclectic repertoire and the ease and style with which she performs it, have led her to appear at a variety of music festivals and venues: from the prestigious Royal Albert Hall in London opening for George Benson and Gladys Knight, or for Bozz Scaggs at the famous Montreal Jazz Festival. Equally, her fans might find her performing a weekly residency with her band at the legendary Birdland Jazz Club in NYC, Ronnie Scott's in London or at the funky new venue Rudy's down in Nashville. Her music and her voice have a broad appeal to music lovers – and her ongoing touring over the last few years in the USA has garnered her many new fans. "A truly exceptional, once-in-a-generation talent, possessing a voice of such sizzling intensity and raw emotion you could fry an egg on it." Peter Quinn, Jazzwise "Gibbons is a jazz talent whose voice is also steeped in vintage R&B with shades of Aretha Franklin…" The Sunday Times JAMES PEARSON – piano James Pearson is one of the countries most respected musicians. His work covers all genres of music, especially contemporary music, jazz and classical. He is the Artistic Director at Ronnie Scotts Jazz Club where his trio are the house band but he is equally at home as a concert pianist. James has broadcast on all the major radio and television networks including a broadcast of his concert of Rachmaninoff's 2nd piano concerto on Classic F.M, and his performance of the Gershwin Piano Concerto and Rhapsody in Blue on BBC Radio 2 . His fine piano playing and arrangements can also be heard on over 50 albums, GEORGE DOUBLE – drums George's playing and recording credits include Dame Shirley Bassey, Grammy Award Winner Jack Jones, Marc Almond, Mica Paris, Ruthie Henshall and Kym Mazelle. His West End and touring theatre record includes stints on Wicked, Guys and Dolls, Avenue Q, Sinatra and Anything Goes. He is active on the British jazz scene and appears regularly at Ronnie Scott's club in London and elsewhere (including Guildford!). He is also curator of Hadleigh and Southwold Jazz Clubs. MARIANNE WINDHAM – bass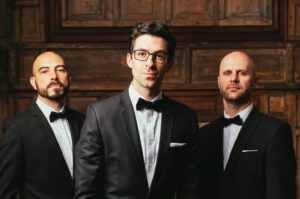 "I'LL BE HOME FOR CHRISTMAS"
Featuring Gabriel Latchin on piano, Josh Morrison on drums and Dario Di Lecce on bass
"For my money, London-born Gabriel Latchin is the best straight-ahead jazz pianist to appear in the past few years… I'll Be Home for Christmas – the gift that keeps on giving" Dave Gelly, The Observer ★★★★
Chase away the winter chill with an evening of music from the latest album from the Gabriel Latchin Trio. I'll Be Home for Christmas a heart-warming collection of seasonal favourites, expect new arrangements of classic favourites as Latchin delivers his signature straight-ahead style.
This truly is a seasonal feast for jazz fans!
The Gabriel Latchin Trio is now a major highlight on the UK jazz scene, with Latchin's playing taking inspiration from Bill Evans, Oscar Peterson and Herbie Hancock. His international presence is growing fast with 15 million streams online to date. This evening's performance features the long-standing rhythm section of Josh Morrison on drums and Dario Di Lecce on bass. The trio showcased this set on a sell-out show last Christmas at Pizza Express, London and we're delighted to welcome them to Guildford this year!
Performance from 8pm (drinks available in in the interval) .
As a not-for-profit organisation, our aim is to bring some of Britain's finest jazz musicians to a local audience, in an intimate and welcoming "jazz club" environment, and since we started in 2011 we have welcomed over 1000 musicians and 17,000 music lovers to a total of about 250 gigs, organised 40 workshops and 60 jam sessions, put on several events in support of other local festivals and raised £38,000 for charity.