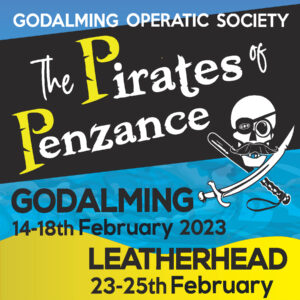 Godalming Operatic Society presents one of Gilbert & Sullivan's most popular operettas, The Pirates of Penzance. The story features a band of pirates and their young apprentice Frederic who, having reached 21, is about to be released from his indentures and has sworn to take vengeance on them. Add in a Major General and his large collection of daughters, a bumbling collection of Cornish policemen and such coincidences as Frederic's birthday falling on February 29th and we have all the ingredients for a hilarious evening's entertainment, with some of the most memorable songs in the G&S cannon.
Godalming Operatic Society is widely regarded as one of the country's leading G&S societies and has performed in several international festivals. They will be accompanied by a full professional orchestra and the production will be fully staged with stunning costumes.
Our performances often sell out, so book early to avoid disappointment.
For performances at Godalming Borough Hall (Feb 14th - 18th)
Book online at: www.ticketsource.co.uk/godalmingoperatic
or by phone from Ticketsource: 0333 6663366
(Ticketsource charge an additional £2 per telephone booking to cover ticket printing and postage)
For performances at The Leatherhead Theatre (Feb 23rd - 25th)
Book online at: https://theleatherheadtheatre.com/
or by phone from the theatre box office on: 01372 365141
Godalming Operatic Society is widely regarded as one of the country's leading Gilbert and Sullivan Societies. The Society was founded in 1924 and had its first production, The Yeomen of the Guard, in 1925. Since then (excepting the war years) it has put on a major Gilbert and Sullivan production every year, including the more rarely performed works such as 'The Grand Duke' and 'Utopia Ltd.'
Currently we perform a fully staged G&S opera every February, with a full 22+ piece professional orchestra under our Musical Director, David Wright.
In June or July we put on a smaller scale work, often at a smaller local venue such as the Wilfrid Noyce Centre in Godalming. Our previous summer productions range from a concert version of 'Aida' to 'The Zoo' by Arthur Sullivan and most recently our 2019 Summer concert 'A Night at the Opera' featuring a wonderful selection of grand opera arias, ensembles and chorus pieces.
01252 703376
www.godalmingoperatic.org