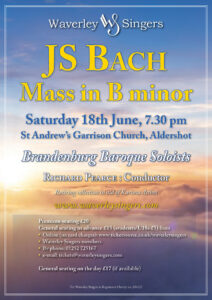 Waverley Singers will perform JS Bach's magnificent Mass in B minor on 18th June at St Andrew's Garrison Church, Aldershot. We'll feature five fine young soloists, all supported by the Josephine Baker Trust and either undertaking or have recently completed their postgraduate studies in music in London.
Isabelle Atkinson - Soprano
Elizabeth Green - Soprano
Bernadette Johns - Alto
Harry Grigg - Tenor
Johannes Moore - Bass
Brandenburg Baroque Soloists
Richard Pearce, Conductor
Tickets (£20, £15, U18s/students £5) are available from https://ticketsource.co.uk/waverleysingers. If you require a wheelchair space (concession tickets for carer), or free tickets for accompanied U16s, please contact tickets@waverleysingers.com.
Waverley Singers support a local charity at each of our concerts, and this time we are very pleased to be working with Aldershot-based charity Karuna Action.   Karuna has been based in Aldershot since 1988, with the aim of relieving poverty through the support of education, healthcare and income generation initiatives, currently working with partners in 11 countries around the world. But it doesn't neglect the challenges faced by people living closer to home, and also supports local initiatives, such as foodbanks and the Community Grub Hub, in and around Aldershot.
This is the concert that we postponed in March 2020 – we could see rapidly rising COVID-19 numbers and decided that to go ahead was just too risky for everyone involved.   We hope that you'll enjoy this wonderful music on Saturday 18th.