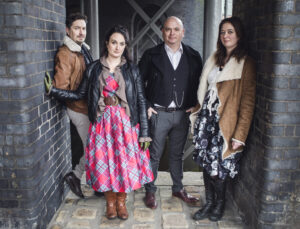 Grayshott Folk Club
www.grayshottfolkclub.co.uk
Grayshott Village Hall, Headley Road, Grayshott,
Nr. HINDHEAD, Surrey GU26 6TZ
Saturday 18th December 2021@ 7.30pm
Grayshott Folk Club's
"Christmas Special" with MELROSE QUARTET
After another year of upheaval and uncertainty, what we all need is an opportunity to sit back, relax and enjoy a proper, old-fashioned, Christmas "do". Who better to play/sing for us, than Melrose Quartet?
Top Folk musicians Nancy Kerr, James Fagan, Jess Arrowsmith and Richard Arrowsmith will royally entertain us with their very special, seasonal show, which they call "A Bright New Year" (I'll drink to that!).
The show will be based upon "The Rudolph Variations", which is their full-length album, featuring a range of joyous seasonal songs, from traditional carols to contemporary wassails.
This will be a fun evening of music & song, dressing up, games with prizes, lots of choruses to join in with, and an award............................ for the most memorable Christmas jumper.
Melrose Quartet are:
Nancy Kerr (voice, fiddle) BBC Radio 2 Folk Singer of the Year 2015 and well-loved for her appearances with The Sweet Visitor Band, Martin Simpson, The Full English, Shake the Chains and The Transports among others – and especially for her multiple award-winning duo with husband James Fagan.
James Fagan (voice, bouzouki, guitar)
Bouzouki wizard, multi-instrumentalist and singer of traditional and contemporary songs, especially from his native Australia. He has toured internationally with Nancy Kerr, Cara Dillon, Bellowhead, Glorystrokes and most recently, with his new duo The James Brothers.
Jess Arrowsmith (voice, fiddle)
Singer and fiddler Jess, performs with husband Richard as a duo, in ceilidh band Hekety, and in new transatlantic trio Arrowsmith : Robb with Ian Robb of Ottawa, having formerly sung, played and toured internationally with Crucible.
Richard Arrowsmith (voice, melodeons)
Box virtuoso and bass singer of great warmth and depth, Richard is recognised as one of the finest players of traditional dance music on the scene. Alongside his work with Jess in duo, trio and full band form (Arrowsmith : Robb, Hekety, Crucible) he is also principle musician for morris side Pecsaetan, and a founder member of metal/ceilidh band Glorystrokes.
Tickets £18.
Available from
Des O'Byrne on 01428 60709
at: grayshottfolkclub@btinternet.com
OR
Ents 24