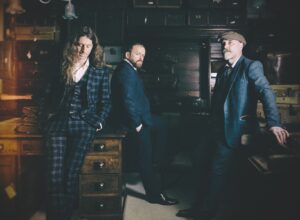 Grayshott Folk Club
www.grayshottfolkclub.co.uk
Grayshott Village Hall, Headley Road, Grayshott,
Nr. HINDHEAD, Surrey GU26 6TZ
Friday April 22nd 2022 @ 7.30pm
Presents Traditional Irish/Celtic Folk with: cua
This trio came over from Ireland to play for us in November 2019. Their beautiful harmonies and passionate singing, made a big impact on our audience so we are delighted to welcome them back to Grayshott again.
Since issuing their superb "Songs of The Hollow" album, Irish/Celtic Folk trio cua have gone on to become a band that has gathered in more praise than most from all sections of the music media.
Awarding the album an 8/10 rating at Americana UK, Jeremy Searle said:
"This Irish trio stands right at the forefront of contemporary cutting-edge folk and even that description sells it a little short."
Issuing a similar judgement for Acoustic magazine, Julian Piper had this to say: "At its finest, music should confound and amaze, and this trio from Ireland have the ability to be one of those outfits who can pull this off."
"John Davidson, Shane Booth & Ros O'Meara bring together dynamic and contrasting instrumentation and vocal arrangements. The group have an expansive acoustic soundtrack blending guitars, fiddle, bouzouki, percussion and 3-part harmony arrangements, to create a world music folk styling that the group call Atlantean."
Although cua were a last-minute addition to Glasgow's Celtic Connections in January 2019, theirs was one of the very first sold-out events.
Listen to "The Other Man" here: https://www.youtube.com/watch?v=ZLLX2hVUeeA
+ Antoine & Owena
Tickets £15 available from: Grayshott Post Office, Haslemere Bookshop
or Des O'Byrne on 01428 607096