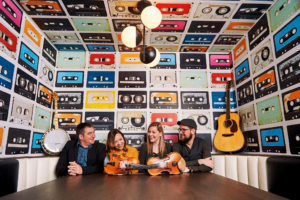 Friday 12th November 2021 @ 7.30pm
CÒIG
CÒIG return to Grayshott Folk Club as part of their 2021 UK tour. They were the last band to play at Grayshott, immediately before the first lockdown on 29th February 2020.
That night, they played to an ecstatic full house and the audience absolutely loved CÒIG's Celtic vibes.
CÒIG are a Canadian Celtic "super group" from Nova Scotia and having had several Canadian bands playing for us at Grayshott in the past, we know that Canucks never do things by halves. If you love authentic Celtic/Irish Folk music, played by outstanding musicians, you will love CÒIG. Each member of Coig is a virtuoso musician and together they make a wonderful ensemble.
They play Celtic music but "Celtic" has a loose definition across the Atlantic and although the band certainly play some traditional music with Celtic origins, they also write and borrow freely from other genres and musicians, so you'll find the likes of Kate Rusby and Gordon Lightfoot mentioned in dispatches.
The four members of CÒIG are:
Chrissy Cowley on Fiddle,
Rachel Davis on Fiddle, Viola and Vocals,
Jason Roach on Piano
Darren McMullen sings lead Vocals and plays a total of nine instruments.
The band have been nominated for, and won many awards, including most recently;
2019 Music Nova Scotia Traditional/Roots Recording of the Year-Nomination (for their latest album "Ashlar")
2018 East Coast Music Awards Roots Traditional Recording of the Year-Winner (for their last album "Rove")
2018 JUNO Awards Traditional Roots Album of the Year-Nomination ("Rove")
Their latest album is called "Ashlar" (released June 2019).
"Ashlar is an exceedingly sparkling affair packed with contrast and versatility, every item a different kind of musical experience. And yet the whole ten-track collection possesses a healthy unity of execution and a delightfully purposeful energy. Ashlar is a masonry term for "a perfect fit". Indeed, a good proportion of the tunes are composed by band members, and these dovetail brilliantly with the traditional selections."
David Kidman-Folk Radio UK
Listen to CÒIG here: https://www.youtube.com/watch?v=WyiFaTXBsPU
+ Copper Viper An Americana/Folk duo from London, who made a big impact when they played for us back in October 2019 and they are back at the earliest opportunity, by popular demand.
This will be a night of genuine quality music.
Tickets £18.
Available from Des O'Byrne on 01428 607096