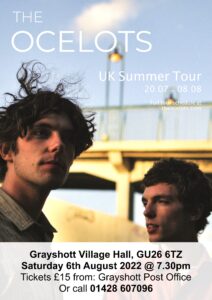 Saturday August 6th 2022 @ 7.30pm
THE OCELOTS
The Ocelots are 24 year-old twins Brandon and Ashley Watson. Born and raised in Ireland, now they live in Leipzig, Germany. The twins have crafted their song writing and musical experience together to produce a forceful blend of rich, sibling harmonies and bare, raw acoustic folk. Their music perfectly embodies the breezy effortlessness of early Bob Dylan and Simon & Garfunkel and has earned them over 1.6 Million listens on Spotify.
The word is getting out and in May 2022, they were invited to virtually attend the Folk International Alliance showcase event in Kansas City, USA. This won't be the last time you hear about The Ocelots........ They are on the way up, for sure.
The Ocelots' live set combines all that is great about Folk music, so come and be charmed by this charismatic duo.
Listen to a live rendition of "The Switch" right here:

At:
Grayshott Village Hall, Headley Road, Grayshott,
Nr. HINDHEAD, Surrey GU26 6TZ
Tickets £15
Available from: Grayshott Post Office or Des O'Byrne on 01428 607096
grayshottfolkclub@btinternet.com