AppArt celebrates ten year of Art Exhibitions at Prior's Field School, Godalming
In 2012 AppArt moved their Art Exhibition and Sculpture Trail from Secrett's Garden Centre to Prior's Field School. Ten years later the moved has proved an outstanding success as the number of artists, works of art and visitors has steadily grown. The School which from its founding has always had a special interest in the visual and performing arts provides excellent facilities for the indoor exhibition and the Gertrude Jekyll inspired gardens outside. The "Rose garden" is currently undergoing restoration so will look even better next April.
Last year for the first time AppArt held its exhibition in July because of the Covid lockdown in April. This proved to be our most successful show with record sales, especially outside sculpture.
Returning to their normal time of the year at Easter, AppArt has enlisted the help of Andrew Sinclair one of the UK's leading figurative Sculptors.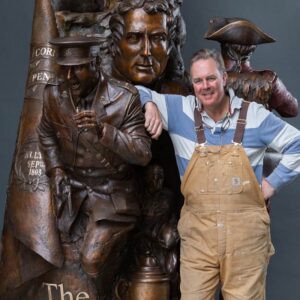 Andrew has exhibited with us before, but not since he moved to Devon where with his wife Diane Coates- Sinclair they founded the "Sculpture School." Andrew has had an impressive career over many years with commissions all over the world for private and public clients.
This includes the Duke of Wellington's Regimental Memorial Sculpture, unveiled in the centre of Halifax, Yorkshire in May 2019.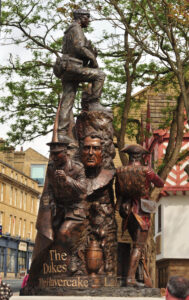 The 16ft sculpture commemorates all those lives affected by the work of the Regiment – the soldiers, the families and the community. A trade-mark feature of Andrew's work is his ability to not just replicate the image of a person or people but to bring them to life and tell their stories through visual narrative and unparalleled sculptural techniques. The memorial celebrates the 300-year history of the 'Dukes' regiment and has become a centre of attraction. Another impressive commission was the David Bowie sculpture "The Earthly Messenger" installed in Aylesbury. It reflects some of the many musical characters that David Bowie portrayed over his long career. Some of his own work could be described as quirky and that includes his well-known nude women riding a dinosaur, but he can turn his talent to many subjects including large animals and a good example is an impressive Durer's Rhino.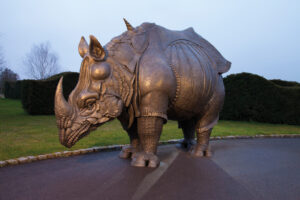 AppArt is fortunate to have the support of artists from several local art societies. These include Surrey Sculpture Society that we have collaborated with over many years. More recently artists from the Cross Barn group have been encouraged by Jamel Akib to exhibit with AppArt and his influence can be seen in much of their work. Artists from Guildford, Farnham Haslemere and Woking Art Societies are well represented in our exhibitions and they provide a wide range of subjects and mediums that add colour and expression to our eclectic exhibition and sculpture trail.
AppArt will open daily from Saturday 9th April and run until Sunday 24th from 10am to 4pm. Admission is free. We will have to wait and see what the Covid situation is nearer the time to see if bookings will be required or limits on the number of visitors at any one time.